StarLash
Rated: 1 out of 5
by Eyelashes.org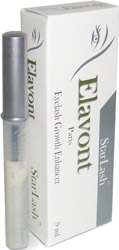 The number of eyelash growth enhancement products currently available is astounding, and new products are continually introduced as manufacturers learn of the great potential of this market. The sheer number of products from which to choose, however, causes confusion for customers, and it's inevitable that some of these products are much better than others. In fact some of the products for eyelash growth can cause troublesome side effects like rashes, irritation, and redness; a few of these products have been linked with more serious complications such as iris discoloration and impaired vision.
StarLash

Reviews

Elavont Corporation manufactures and markets StarLash, touted as an all-natural eyelash growth enhancer. Like many other eyelash growth products, StarLash is said to promote faster growth of the natural eyelashes and to strengthen the lashes as they grow. Unlike most other eyelash growth products, StarLash is applied not only to the lash line but to the entire eyelash from root to tip.

StarLash's manufacturer promises noticeably longer and thicker eyelashes in three weeks. On the manufacturer's website, the results of a StarLash usage study shows that the product provided fuller, thicker, longer, and more visible eyelashes after eight weeks of regular usage, but the details of the study are sketchy. It is not clear, for example, how many test subjects were involved in the study, nor is it obvious if there was a control or placebo group used in the study.
StarLash Ingredients
StarLash contains 21 ingredients that work in concert to cultivate and regenerate the hair cells. The ingredients in the StarLash formula include Castor Seed Oil, Hydrogenated Lecithin, Phenethyl Benzoate, Lemon Peel Extract, Ethylparaben, Propylparaben, Isobutylparaben, and Butylparaben.
StarLash Side Effects
Few side effects are noted by users of StarLash, which is likely due to the manufacturer's use of natural ingredients. A few users noticed minor irritation around the eye area while using StarLash, but these side effects quickly dissipated once they stopped using the product.
StarLash Final Thoughts
StarLash is a relative newcomer to the eyelash growth enhancement market, so it remains to be seen how well this product will actually perform. The manufacturer mentions the positive results from clinical studies performed on StarLash, but without the details of these studies, we are a bit skeptical as to the results.
StarLash's manufacturer, Elavont Corporation, claims to be one of the top players in the health and beauty arena, but they seem to market just two relatively new products: StarLash and sister product StarBrow. Without the proven track record of other health and beauty companies, it's hard to assess Elavont's claims to be a market leader.
We like that most of the ingredients found in the StarLash product formula are natural and non-irritating. The inclusion of parabens in StarLash, however, has us a bit concerned. Recent studies have found a possible linkage between parabens found in common health and beauty products with certain types of cancer. While further studies to establish the accuracy of this linkage are currently underway, the avoidance of products containing parabens might be prudent at this point.
For a natural eyelash growth enhancer without parabens, try MarveLash instead. MarveLash's potent yet safe ingredients promote effective lash growth; in a clinical study of fifteen patients, eyelash density increased up to 82 percent over a period of just two to four weeks.