Idol Lash
Rated: 4 out of 5
by Eyelashes.org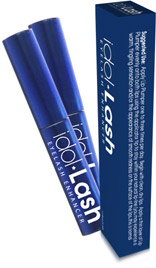 With the huge number of new products in the eyelash growth enhancement market, it's difficult to sort out the products with exaggerated claims and the hype from the products that actually work to promote thicker and longer eyelashes. To help you to evaluate the many product choices, we have done the work for you with our in-depth reviews of the top eyelash growth options.
Idol Lash

Reviews

Idol Lash is an eyelash growth enhancer that is applied daily to the base of the eyelashes in the same manner as liquid eyeliner. In a study of fifteen participants who used Idol Lash every night, eyelash density, as measured by SigmaScan software, showed an increase of as much as 82 percent within a four week period.

Idol Lash is safe to use on eyelashes that have eyelash extensions attached to them. In addition, Idol Lash can be safely used on the lower lash line; most other eyelash growth products as not for use on the lower lash line because the product can easily enter the eye when used in this area.
Idol Lash Ingredients
The ingredients contained in the Idol Lash formula are safe. It's also good to note that Idol Lash does not contain parabens; while more research is currently underway, preliminary research links the use of cosmetic products containing parabens with certain types of cancer.
Idol Lash's main ingredients include Honey Extract, Panthenol, Chamomile Extract, Hydrolyzed Keratin, and Kelp Extract.
Idol Lash Side Effects
With its safe and natural ingredients, it's not a big surprise that the side effects from Idol Lash are slim to none. A few customers had minor itchiness when they first started using Idol Lash, but the itching resolved after a few uses and these customers were able to effectively continue their use of the product.
Idol Lash Final Thoughts
Idol Lash is definitely one of the better eyelash growth enhancers on the market today. In addition to producing measurable results without harmful side effects, Idol Lash won't break the bank. A starter package of Idol Lash costs $49.95 before shipping and handling, but the real savings come into play when you order multiple packages. Six packages of Idol Lash are priced at $149.95 before shipping and handling.
Idol Lash can also be used on eyebrows to increase the thickness and darkness of eyebrow hairs or to jump start the growth of eyebrow hairs where natural hair growth is sparse or nonexistent.
For an even stronger product, Marvelash is one of the more effective and affordable eyelash growth enhancing products available today.