Li Lash Eyelash Conditioner
Rated: 1 out of 5
by Eyelashes.org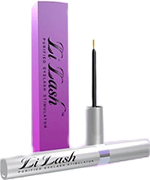 If only there was an eyelash growth product that grew lashes as quickly as the overall market for these products seems to be growing. With the hundreds of choices in eyelash growth products, it can be confusing and overwhelming to sort through the hype to find out which products are both safe and effective at promoting longer, fuller, and darker lashes.
Li Lash Eyelash Conditioner
Marketed as a "purified eyelash stimulator," Li Lash is a topical eyelash growth enhancer that is applied to the upper eyelid like a liquid eyeliner. The manufacturer of Li Lash promises fuller, longer eyelashes within four to six weeks of daily product use; this promise is backed up by a 90-day money back guarantee.
Li Lash was originally developed by a physician and clinically tested to verify results. Each tube should last from four to six months of daily use. In addition to helping customers who want thicker and longer natural lashes, Li Lash purportedly helps to strengthen eyelashes for women who wear eyelash extensions, providing better support with less breakage.
Li Lash Reviews
Customer testimonials and product reviews fro Li Lash are generally quite positive. Almost every user noticed measurable improvement in the length, thickness, and quality of their eyelashes within two months of using Li Lash.
The negative feedback on Li Lash seems to be categorized into two main areas: the price of the product and the side effects. At $170 per tube, the product is one of the most expensive eyelash growth products currently on the market. Users who experienced side effects from Li Lash mostly complained of redness, itching, and irritation that went away when they stopped using the product.
Li Lash Ingredients
The ingredients in Li Lash's eyelash growth product include several controversial substances, including a prostaglandin analogue and several forms of parabens. The prostaglandin analogue is questionable since it is associated with changes in the color of the iris as well as problems with vision that include blurring and lack of clarity. Parabens are under the gun as an ingredient in any cosmetic product; in addition to causing skin irritation and exacerbating Rosacea, parabens are also linked with breast cancer.
Specific ingredients found in the Li Lash formula include: Panthenol, Lupinus Albus Seed Extract, Prunus Amygdalus Seed Extract, Phenoxyethanol, Chlorphenesin, Silica, Colloidal Silver, Glycerin, 9 Alpha, 11 Alpha, 15S-trihydroxy-17Phenyl 18, 13E-Dienoic acid, 20-Trinorprosta-5Z, Isopropyl Ester, and Hydroxyethyl cellulose.
Li Lash Side Effects
While other eyelash growth products have a longer list of potential side effects, Li Lash is not without its own side effects. A significant number of users complained of eye irritation, burning, redness, swelling, and/or itchiness. In addition, some users noted that the product caused discoloration of the eyelid along the line where the product is applied, and a few users experienced changes to the color of their iris.
Want to discover effective eyelash growth products that don't cause harmful side effects? Visit our reviews of top-rated products such as MarveLash here.