Mavala Double Lash
Rated: 1 out of 5
by Eyelashes.org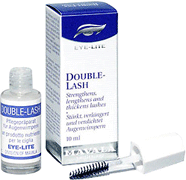 Scientific research studies have identified ingredients that can trigger enhanced growth of natural eyelashes, resulting in fuller, more lush lashes without resorting to eyelash extensions, false eyelashes, or mascara. These studies have led to an explosion in the number of products that have been recently introduced into this marketplace, but some products result in markedly better results. Read our assessments of the top eyelash growth products to help you navigate to the best options.
Mavala Double Lash

Reviews

Mavala Double Lash is a product from Switzerland that promises to strengthen and lengthen eyelashes using a natural formula. The product is applied with a mascara-style brush from the base of the lashes to the tips; the manufacturer recommends applying Mavala Double Lash at bedtime and leaving it on all night.

In general, customers are somewhat happy with the results they experienced through the use of Mavala Double Lash. As eyelash growth products go, it's one of the less expensive choices in this market, and it seems to grow lashes to some extent for the majority of the users.

Of the Mavala Double Lash users who experienced increased lash growth, many saw some change within several weeks, although some users noted that it was a few months before they could tell a difference in the fullness and length of their lashes.

Most customers found Mavala Double Lash easy to apply; some reviews mention that it's difficult to tell how much product is remaining in the bottle. This can lead to running out of the product; lashes can revert to their previous state unless Mavala Double Lash is used continually.

Some Mavala Double Lash reviews note that the product can dry out and become clumpy after the bottle has been opened for several weeks. Other customers noted that Mavala Double Lash lacks a safety seal and were concerned with the possibility of product tampering.
Mavala Double Lash Ingredients
Mavala Double Lash's main ingredients include Glycosaminoglycans, Riboflavin, Aluminum Silicate, Xanthan Gum, Methylparaben, and Propylparaben. It's admirable that Mavala Double Lash avoids the prostaglandin ingredients that can discolor the skin or the eye itself, but we aren't happy to see Methylparaben and Propylparaben in the list of ingredients, as these parabens may contribute to a higher likelihood of certain cancers.
Mavala Double Lash Side Effects
Most users had no negative reactions to Mavala Double Lash, but a small number of customers experienced eye irritation. A few users actually developed pink eye, which required a trip to the doctor's office to obtain medication to clear.
Many customers warned that users need to take care to keep Mavala Double Lash out of the eyes, as it stings quite a bit.
Mavala Double Lash Final Thoughts
While Mavala Double Lash is reasonably priced as compared with many other entrants in the eyelash growth market, it doesn't seem to deliver the significant lash growth that is possible with products containing more effective ingredients. If your budget is extremely tight, you may want to give Mavala Double Lash a try, but be extra careful to keep the product from getting into your eyes. Plan to stick with the product for at least a few months to see if it works to grow your eyelashes, as some users didn't see results for that length of time.
For a more effective alternative that is scientifically tested to grow longer, thicker lashes in just a few weeks time, check out MarveLash.