Jan Marini Lash Conditioner
Rated:2.5 out of 5
by Eyelashes.org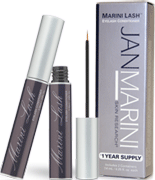 Many people find the world of eyelash growth products to be a confusing place. With a vast number of different offerings both in stores and from online merchants, identifying the products that actually make a difference when it comes to fuller and longer eyelashes can be a hit-or-miss process that consumes much time and money. To assist you in finding the eyelash growth products that really deliver on their promises, we have compiled our research and reviews here.
Jan Marini Lash Conditioner

Reviews

Jan Marini Skin Research introduced Marini Lash in 2005, which makes it a product that has been around for a long period of time in this relatively young market. The product utilizes a proprietary peptide formula which can be used on both eyelashes and brows to encourage faster growth of lush, dense lashes and brows.

The manufacturer recommends using Marini Lash once per day, in the evening. Marini Lash comes in a tube with an eyeliner-like applicator; users are to apply the product just to the upper lashes, as the manufacturer states that it will naturally migrate to the lower lash line. Marini Lash is safe for use with contact lenses. If the product accidentally gets into the eye, the manufacturer recommends that the user immediately and repeatedly flush out the eye with clear water and see a doctor if the eye is still irritated after an hour.

Reviews from users of Marini Lash are somewhat mixed; while most customers did notice that their eyelashes were softer and more conditioned, a smaller number of users saw noticeable growth in length or in fullness. Those users who noticed results from daily use of Marini Lash note that it took between three and twelve weeks to notice a positive change.
Jan Marini Lash Conditioner Ingredients
Marini Lash utilizes a blend of ingredients that are designed to condition lashes and encourage growth. The main ingredients, which do not include prostaglandins, are Myristoyl Tetrapeptide-12, Myristoyl Pentapeptide-17, Cinnamon Bark Extract, White Tea Leaf Extract, Horse Chestnut Seed Extract, Methylparaben, and Propylparaben.
While we like that Marini Lash does not contain prostaglandin ingredients that have been linked with some of the more serious side effects associated with eyelash growth products, we are concerned about two of the other ingredients. Methylparaben and propylparaben, forms of parabens that are traditionally found in a number of health and beauty products, have been associated with recent research that shows that parabens may contribute to an increased risk of certain cancers. As a result of this research, most cosmetic companies are reformulating their products to be paraben-free; hopefully Marini Lash will soon follow suit.
Jan Marini Lash Conditioner Side Effects
Aside from minor eye irritation, the possible side effects from the use of Marini Lash are mostly slight when compared to several other top names in eyelash growth products. We are happy that Marini Lash does not contain ingredients that are linked with permanent changes in the color of the iris or in the skin around the eye area.
We are concerned, however, about the presence of parabens in Marini Lash's ingredient list. While the link between products containing parabens and an increased risk of cancer still needs to be confirmed, we do not think that it is worth taking this chance.
Jan Marini Lash Conditioner Final Thoughts
Marini Lash isn't the worst of the eyelash growth products,, but it's far from the best. For a better alternative, read our reviews of MarveLash.