Rapid Lash Eyelash Renewal Serum
Rated: 1 out of 5
by Eyelashes.org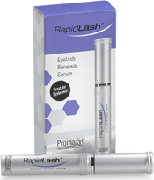 While many eyelash growth products make promises regarding thicker, darker, and longer natural eyelashes, some products work more effectively than others. To separate the eyelash growth formulas that are truly effective from those that simply don't live up to their pledges, we have sifted through product reviews and testimonials in order to find the top-rated eyelash growth products available on the market today.
Rapid Lash Eyelash Renewal Serum
Rapid Lash is a topical product that accelerates growth of the eyelashes and, if desired, the eyebrows. The manufacturer recommends applying Rapid Lash every night before bed and notes that most customers see significant results within three to four weeks.
Rapid Lash Reviews
The majority of product reviews and testimonials concerning Rapid Lash indicate that the product does result in thicker and longer eyelashes, at least for the first six months of use. Some users experienced lash breakage and fallout beginning around the sixth month of use; of those customers who continued to use Rapid Lash past the six-month mark, many of them felt that their eyelashes grew back but not to the original length and fullness that they experienced when first using the product.
Other users had difficulty with unwanted side effects from the use of Rapid Lash; some side effects were so severe that the customers stopped using the product altogether. The most common side effects were itching, redness, irritation, and swelling in and around the eye area. Other less common side effects included darkening of the eyelid skin and darkening of the iris itself. Some users complained that Rapid Lash resulted in dark under-eye circles that lasted for weeks after they discontinued use of the product.
Rapid Lash Ingredients
Rapid Lash's formula contains a number of ingredients designed to moisturize the eyelash area and to strengthen and replenish the individual eyelashes. Individual ingredients found in the Rapid Lash formula include Rhizobian Gum, Dipotassium, Butylene Glycol, Glycyrrhizate, Copper Tripeptide 1, Phosphatidylcholine, Hydrolyzed Glycosaminoglycans, Phenoxyethanol, Sodium Hyaluronate, Allantoin, Phenoxyethanol, Alcohol, Cucurbita Pepo Seed Extract, Chlorphenesin, Hydroxyethylcellulose, Glycerin, Octapeptide 2, Polypeptide 23, Pantethine, Glycine Soja, Sorbic Acid, and Panthenol.
Rapid Lash Side Effects
While most users found that Rapid Lash accelerated the growth of their eyelashes, the product is not without its drawbacks. Side effects range from minor and irritating such as blurry vision, itching, and redness to potentially very harmful. Possible Rapid Lash dangers include allergic reactions to some of the specific ingredients in the Rapid Lash product as well as a permanent change in the color of the eye. These side effects may be minimized if great care is taken when applying the product to ensure that it does not get into the eye. If Rapid Lash does enter the eye itself, the manufacturer recommends rinsing the eye thoroughly with clean, cool water.
While some Rapid Lash users experienced eyelash growth, the number of users who suffered from side effects was quite large. For an effective eyelash growth product that minimizes the risk of harmful side effects, see our reviews of MarveLash.